Maps of the Antique
Mediterranean Sea

Greece


Overview


Some dates


Archaeological sites


Museums


Coinage


Language and Writing



Attic


Corinth



Magna Graecia



Apulia


Daunia


Gnathia


Campania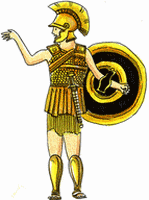 GREEK ARCHEOLOGICAL SITES - MUSEUMS IN GREECE
On the map below, we could of course display only the major sites and main museums.
Pointing with the mouse on the coloured dots, you'll get some information, including the geographical coordinates.

For more information, click on the "Satellite view" button: This second map is also in french language, but much more detailed and displays about 400 archaeological sites and museums all over Greece and on the Asia Minor coast.



Note: Out of this map's area, the site of Cyrene, on the Lybian shore, has to be mentioned.