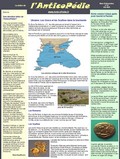 Display our News Memo nr.43
(February 2018 issue, in french only)
as you'll get it by E-mail
In this issue :
Is our system of units too simple?

The big adventure of weight units in Antiquity


Get by mail all future issues,
subscribe here.
It's free, and you can unsubscribe whenever you want to.
We'll send you a confirmation mail.