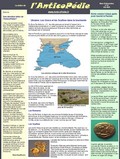 Display our News Memo nr.39
(March-April 2017 issue, in french only)
as you'll get it by E-mail
In this issue :
Forgery and falsification in archaeology
Rodin's thinker, 38 centuries ago
Special "Interactive maps":
How to locate an archaeological site in the middle of nowhere?
How to design a precise map?

Get by mail all future issues,
subscribe here.
It's free, and you can unsubscribe whenever you want to.
We'll send you a confirmation mail.