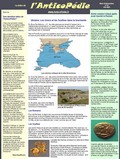 Display our
News Memo nr.59
(October 2021 issue - available in french only)
as you'll get it by E-mail
In this issue :
Why triomphal arches?


Where can you visite archaeological muesums and sites: France, Greece, Etruria, Egypt: our best maps


Fighting windmills: cookies and fake news...




Get by mail all future issues,
subscribe here.
It's free, and you can unsubscribe whenever you want to.


We'll send you a confirmation mail.

These data are used only for sending you our News Memo and are not transmitted to anyone.