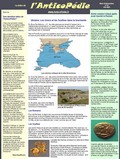 Display our
News Memo nr.61
(Summer 2022 issue - available in french only)
as you'll get it by E-mail
In this issue :
Ukraine: Greeks and Scythians amid turmoil


Rich like Croesus, the gold from the Pactole


AnticoPedie's last letter? (editorial)




Get by mail all future issues,
subscribe here.
It's free, and you can unsubscribe whenever you want to.


We'll send you a confirmation mail.

These data are used only for sending you our News Memo and are not transmitted to anyone.